Franchising with Dill Dinkers
Dill Dinkers Pickleball is the leading provider of dedicated indoor pickleball facilities on the east coast. With the announcement of their fifth facility, Dill Dinkers will offer 50 dedicated indoor pickleball courts in the DMV by early 2024. The Dill Dinkers brand is known for its fun, friendly, and welcoming environment where players of all ages and skill levels can play, socialize, and improve their skills. Each facility offers dedicated indoor courts with fences and outdoor surfaces, event space, a ball machine, and a state-of-the-art reservation system powered by Court Reserve. Dill Dinkers offers court reservations for members and visitors. They also offer clinics, private and semi-private lessons, leagues, business advertising, and rental for private events.
"Our vision is to spread the joy of pickleball worldwide," said Will Richards, Co-Founder and CEO.
Will and his wife Denise co-founded Dill Dinkers after they caught the pickleball bug. "We started playing in the summer of 2021 at our local park. We loved playing, but it was impossible to play outside by late fall. By February, we were anxious to play and found an indoor facility in Pennsylvania. We arrived only to realize it was a barn that had been converted into indoor pickleball courts.  There was no heat or bathrooms; all the players were bundled in their winter gear, and it was packed! It was clear there was a need for a great dedicated indoor pickleball experience, so we made a plan, and by November of 2022, we opened our first facility in Columbia, Maryland."
And with that Dill Dinkers was born!
"Franchising is our way to share our love of pickleball with communities across the country and offer a place to play year-round," explained Denise. "We aspire to create an atmosphere that is fun, with continuous learning, healthy competition, and lifelong friendships."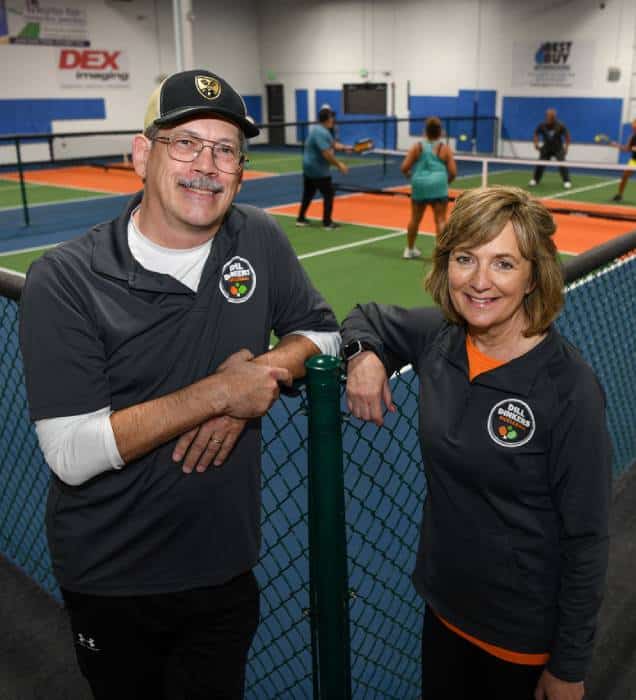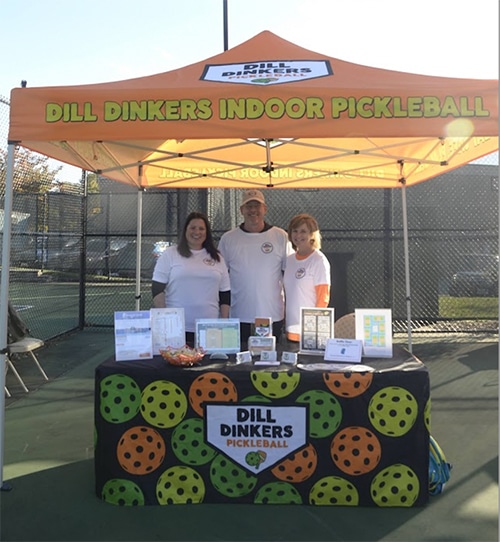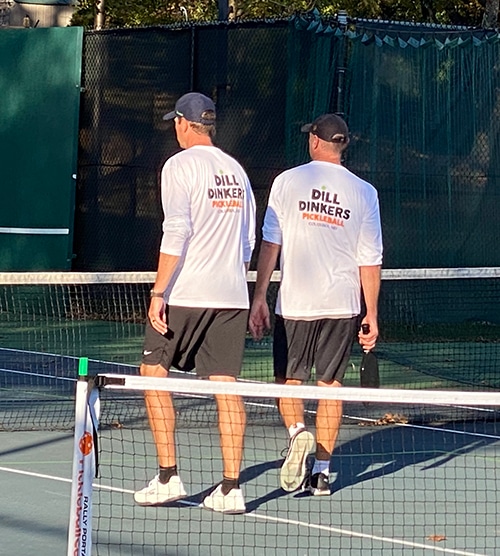 Franchise with us and become a part of the pickleball revolution! As a franchise owner, you'll have the unique opportunity to tap into the booming pickleball market, backed by our proven business model and dedicated support. Joining our franchise family means leveraging a brand that's passionate about spreading the joy of pickleball while enjoying the benefits of a thriving and rewarding business venture. With our expertise and your dedication, together, we'll make a big impact on the pickleball community and bring the exhilarating sport to enthusiasts across the nation. Franchise with us today and let's make pickleball history together!
FActs About Our Franchise Program
As a Dill Dinkers Regional Developer, you'll open your own "flagship" location in a protected territory.  Then, after opening your first club, you can meet your development schedule by opening additional units, as well as having independent franchises open in the market. This limits the amount of capital you may need to deploy and creates an additional revenue stream as we will compensate you for any locations that open in the territory including a percentage of the ongoing sales, creating a tremendous economic platform for growth and success.
We estimate the initial investment to open a single-club Dill Dinkers franchise to be between $328,961 to $765,046  depending on the size of the location, number of courts, and the condition of the space.  The initial franchise fee is $50,000 and the continuing royalty is 8% of your sales.  We do not have a compulsory brand fund contribution at this time. 
We estimate the initial investment to become a Regional Developer to be between $202,600 to $865,600 depending on how large your territory is and if you locate your office/training center in your flagship location or independently.  If you are one of our first 10 Regional Developers to sign an agreement, the initial franchise fee is $100,000 for a territory of 1M population, and your compensation will be equal to 50% of the initial franchise fee for any single-club locations and 50% of the ongoing royalties collected.
We anticipate it will take between 90 and 180 days to open your Dill Dinkers Club after you sign your franchise agreement.  We have successfully opened our three locations in less than 90 days from signing each lease and we will help you open as quickly as possible.   This will depend on how long it takes to find a qualified location.  Our national brokers will assist you at no cost to you.  It will also depend on the condition of the space and whether you will need to obtain a building permit versus just remodeling the space.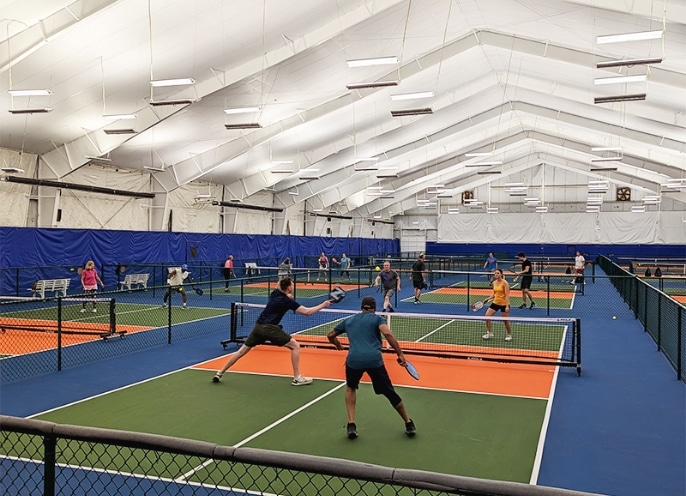 Stay connected to all the latest Dill Dinkers happenings and updates from our bustling pickleball facilities. The Dinker's Digest includes the freshest news and stories straight from our courts. Check back often to catch all the action and be part of the excitement at our pickleball facility!
The Dinkers' Dispatch - Corporate
Stay in the loop with all things Dill Dinkers! Don't miss a single update or exciting event – sign up for our official corporate newsletter, and be the first to receive company news, stories, and expert guidance that will elevate your pickleball experience.
©2023 Dill Dinkers Franchising, LLC. This advertisement is not an offering.  Submission of this form does not constitute an offer to sell a franchise. A franchise offering can be made by us in a state only if we are first registered, exempted or otherwise qualified to offer franchises in that state, and only if we provide you with an appropriate franchise disclosure document.